I'm in a huge quandary about Rita, my V-Smash.
When she came arrived I hardly took any pictures – because there were so many Smash pics around….and we didn't get to bond. I had decided to sell her but…..
….I really like her today!!
What a dilemma?
I don't think I'm ready to sell her – yet?? but maybe she'll continue to be neglected – if I decide to keep her I'd like to matt her and give her bangs…because I love pictures I've seen with bangs, and I don't like shiny girls?? But I don't know that I'd get much for her so maybe it's not worth it and I should keep her for now.
oooooh this is so tough!
Here's a couple more pics. Ain't she sweet?
She was great modeling this hot dot dress. Here she is with Honey (PWP)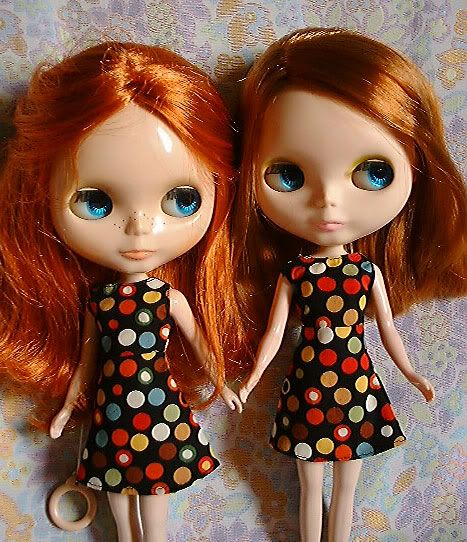 and with a few t-shirts I made yesterday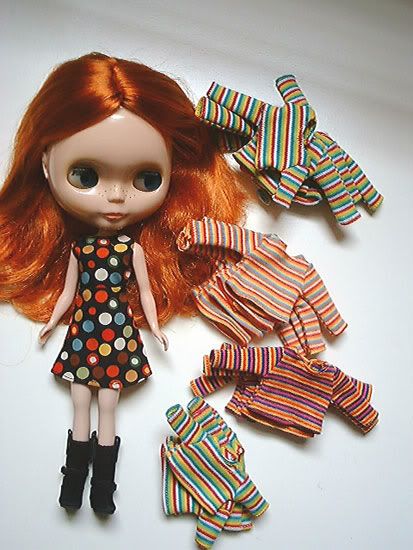 I'm still pondering about Smashie! I have 21 girls now! Too many.
Id don't think a 2nd hand Smash would make too much for a Kenner fund. The other option is to sell RN who's another neglelcted redhead. Oh. I don't know!!?? This is very difficult. I'm not looking for offers becasue I have been talking to a lovely lj friend who would be great to adopt Rita.and I don't want to keep dithering for too much longer I promise.
Any advice or thoughts would be much appreciated.
I'm not usually this indecisive…guess I'll wait and see how I feel??